First an oldie but goodie. If you are a hard core emacs user, you probably already know about tetris.el. If not, you might get a kick out of it. Most emacs builds ship with it by default. To activate it simply do:
M-x tetris
If you are emacs-challenged M-x stands for "press Meta key (in most cases Esc will do) and x together". The effect – a full fledged Tetris game inside of your emacs buffer: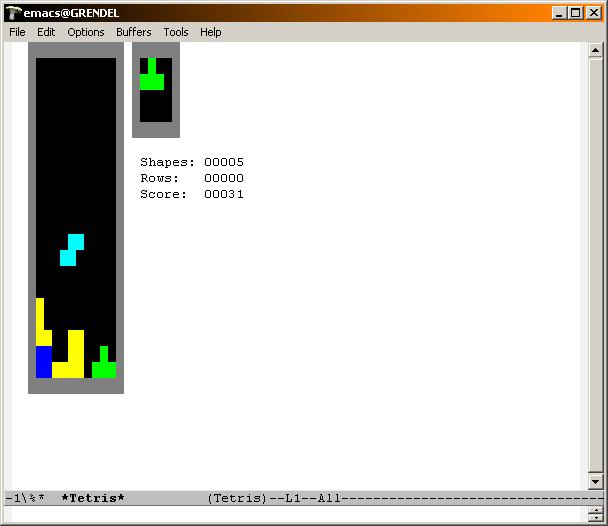 Yes, I took that screenshot on windows. Sue me. Emacs will run anywhere, so there was just no point of booting up Ubuntu on another machine just to take this shot.
The second easter egg you might not know about. It is by no means new, but since I only found out about it today I'm assuming it is not as popular as tetris.el. Here is what you have to do:
Start a OpenOffice.org Calc spreadsheet and enter the following formula in any cell and press enter:
=game("StarWars")
Oo.org will pop up a clone of the classic Space Invaders game:
I have no clue why they called this game "StarWars". The game seems to have several different modes of play, but you can only call it up once per session. If you close the game window, and try to play it again, it won't let you.
I didn't mention Book of Mozzila here because just about everyone and their mom knows about it by now, and it's not as fun as these little two mini-games. :mrgreen: In case you were living under a rock for the past few years, put about:mozilla in the address box of Firefox and enjoy.
Add your favorite software easter egg in the comments.
[tags]easter eggs, easter, tetris.el, tetris, open office.org, hidden games[/tags]