The internet is killing Microsoft these days. Ever since man climbed down from a tree, learned how to walk upright and figured out how to write AJAX apps, the number of chairs thrown at unsuspecting developers in Redmond has been climbing exponentially. Let's face it – the interweb is the great equalizer. It levels the playing field – because it doesn't really matter whether you use Windows, Apple or Linux to access your Gmail, Google Docs and your Facebook. Your desktop is slowly becoming a thin client for the ever-richer web applications.
This is a direct threat to Microsoft's defacto monopoly – and they are fighting back, the only way they know how – by implementing a vendor lock in strategy. Silverlight is just that. It is an attempt to create a Flash like plugin that will run great on Windows, somewhat acceptably on Apple, and not at all on Linux/Unix based systems. Yes, I know there is Moonlight but I suspect it will always be lagging behind the MS releases, and it will come loaded with proprietary codex that won't be bundled with the public releases.
Same old shenanigans – you know how it works. Besides, we have been there before. Remember how we couldn't play Youtubes for a while there because we were stuck with Flash 7 while Windows and Apple folks enjoyed versions 8 and 9? I remember and I Adobe didn't even have a vested interest in putting Linux down. They just didn't care enough. Microsoft on the other hand is poised to profit if the plugin doesn't work well on other platforms. The internet leveled the playing field, and they are planning to tilt it again by getting into these huge Silverlight contracts for the government, libraries and educational institutions.
I'm writing about this now, because my heard of nooblets (and I tell you, heading cats is an enjoyable past time compared to herding throngs of flabbergasted luserati) started asking about it. They want to know what the "Silver Lights" (or "Silver Flight" or "Sliver Lite") are, and why do they "pop up on Microsoft" (whatever that means). And when they ask, I simply pull out my pocket version of this very image: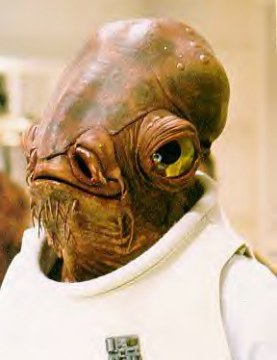 Yes, I keep Admiral Ackbar in my pocket especially for those occasions when I must condescendingly point out an obvious trap to someone. It also works for identifying tarps. I like the blue tarp the best. :P
It's a trap my friends. Don't be fooled by their promises of a 100% compatibile moonlight release. It's called moonlight, because you will be up all at night, and will end up howling at the moon in despair if you try to compile it and get it working on a linux box that does not run some version of Novell on it.
This new and exciting technology is nothing else than a vendor lock-in for the web. And I'm worried about that because I'm a linux user, and my prospective progeny will also likely be linux users. And I don't want to find out one day that I have to sit at the "gaming box" to access tone governmental or educational websites because Mono folks are dropping the ball on Moonlight.
This is not just some silly rant of a random linux loon. It is a real concern, and the great state of Cali-fornication is also taking it very seriously – to the point where in October of 07 they asked the District Judge to extend the Microsoft anti-trust settlement for another 5 years – precisely because of issues surrounding Silverlight.
I just want you to keep this in mind. When your boss asks you if you should invest in that "Silvered Lights" platform, you just whip out your Ackbar and yell at top of your lungs: "IT'S A TARP!"
[tags]silverlight, microsoft, monopoly, ackbar, trap, tarp, vendor lock in[/tags]