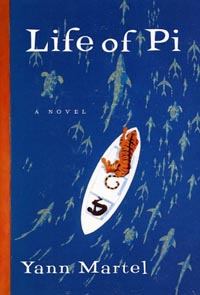 It is very easy to write an entertaining review of a really bad book, or a bad movie. Conversely it is hard to write anything meaningful about something that is really good without sounding a tad boring. Thus I am at a strange predicament here. I'd love to rip Life of Pi apart, and make fun of it but I can't because it's actually good. For that reason I'm going to skip plot synopsis since you can read that on Amazon, or on the back of the book. I'm going to talk about the guts of the book, and the ideas it contains because they are rather interesting – so they may sort of counterweight the lack of cruelty and toilet humor in this post.
The style of the novel is light, modern, eloquent and quite accessible. It sort of reminds me of Cory Doctorow in the way the author tackles certain subjects but Yann Martell seems to be more focused while Doctorow sometimes starts rambling and looses focus in a sea of pop culture, gadgetry and gimmicks. Let me give you an example – the book starts with tangential discussion of the habits and adaptations Sloths. Martel goes on for about 10 to 15 pages describing these animals in painstaking detail, and with a large dose of humor. Sloth's are not really part of the story, but they are animals which made a big impression on the main character so we get so we learn quite a bit about them in the very first chapter. This sort of very in-depth, seemingly off-topic tangent was rather characteristic of Cory Doctorow's style. Martel however seems to be much more adept at making his tangents an integral part of the story, and disguising their nature. I believe that the similarity here is completely incidental, and superficial – and probably completely in my head. But that was the first association that popped into my head when I started reading the book.
It's probably also worth mentioning that these few initial pages about Sloths were what cemented my decision to buy this book. If the author could ramble about these particularly un-interesting animals in such an amusing and engrossing way, I definitely needed to check out the rest of the novel.
Life of Pi is one of those stories that was designed from scratch to piss off the reviewers who like to categorize literature using easy to comprehend tags such as "drama", "scifi", "romance" and etc. There is really no easy way to easily categorize this book. It is part Robinson Cruzoe like survival story, part fairy tale, part religious story and finally part animal planet documentary. Martel has this amazing ability to shift between these completely different themes without you even noticing and weave them into a cohesive whole.
On top of that, the novel is chock full of interesting, thought provoking ideas. For example Martel makes a passionate defense of zoo system that made me change the way I think about these institutions. A lot of people consider consider zoo's to be a bit cruel places where poor animals are imprisoned for our entertainment. They look at a lion in his enclosure and see a fallen king of the jungle, broken, enslaved and yearning to regain his freedom with the every fiber in his body. Martel on the other hand claims that the very same lion is absolutely happy and content to live in that enclosure simply because he never understood the abstract concept of freedom. Animals are usually very territorial and once they find a place they like, they are very reluctant to move. Out of necessity their territories in the wild end up being quite big because it is not very easy to find a spot that has both plenty of water, food, and a place to sleep. Usually these things are spatially separated, and thus every day the animal must trod around from the watering hole, to it's favorite hunting/grazing spot and back.
Now if you take that territory, shrink it down in size you have a typical zoo enclosure. The animal has a place to sleep, a place to drink and a place to eat all within reach. On top of that, the food is plentiful, and magically appears out of nowhere every morning, the water is always clean and there are no dangerous predators in sight. Could an animal ask for a better accommodation? Freedom is an abstract concept has inherent value to us humans, but there is no reason to think that an animal would comprehend and understand it's value – or desire it the same way we do if all it's needs are being met.
You may or may not agree with this point of view but it is interesting angle, and it made me think. The book would be worth reading just to see this argument being presented by Martel. And trust me, he does it much better than me.
Another interesting topic tackled by the book is religion. The main character is a practicing Hindu, Christian and Muslim all at the same time. He gives all the religions equal time and mind share and considers them compatible and complimentary to each other. Each offers to him a different facet of religious experience, but only combined together they let him express his faith to the fullest. How does this work considering the fact that both Christianity and Islam are exclusive religions? I'm not even going to attempt to explain this. You will have to read the book – but Martel's religious discussions are worth at least a cursory look. As with the zoo bit, his unique point of view makes you think, and re-evaluate your own preconceptions about religion.
Finally, there are the bizarre, loopy parts that really made an impression on me. I personally think that (note this is a spoiler) [ROT13: gur pneavibebhf vfynaq] an awesome concept. Completely unreal, original but also quite unsettling in a subtle way.
The ending is unconventional as well. It sort of killed me, but at the same time made the story more profound as it was. The way this ending implants a seed of doubt in you is insidious. It bothered me for days, until I realized it didn't really matter what what actually happened to Pi. Important thing was that the story he told carried the messages it did – that it entertained me, amused me and made me think. So I will go ahead and agree with Pi – I like the story with animals much better, and I'm glad I read it.
[tags]life of pi, iann martel, books, review[/tags]