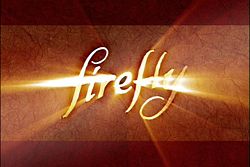 A while back, I watched Serenity and really enjoyed it. This was a surprise for me, and the very same day I vowed to get the whole series on DVD. I wanted to see if it was as good as the movie, or if it in fact was better. Most people told me that the latter was true so I was intrigued. Sadly, It took me a bit over two years to get to it. What can I say – I'm really good at what I do best, and what I do best is procrastination. If I cold get paid for procrastinating I would probably have enough money by now to buy Bill Gates and make him mow my lawn. Unfortunately, most people pay you money for the exactly opposite of procrastination – and that is actually doing stuff. I'm not very good at that you see and hence, I have no fabulous wealth.
Every time I decide to start watching a new series it has to sit on my desk, on a shelf or on my hard drive for at least 3-4 months before I get to it. It is really not really something that I came up with, or that I strive for. It just how it works out. I get it, put it away and then forget it. 3-4 months down the road I'm bored and I suddenly remember that I have it there sitting for me and finally start watching. With Firefly the waiting period was slightly over 2 years, but I finally got to it.
Quick aside – I really can't believe that the Serenity post is dated Sept 06. I could have sworn I have posted it like June or something. Go figure. Can you believe that I've been spamming this blog with my incoherent ramblings for almost 4 years now? It's amazing how the time files these days. It reminds me of that short story that I blogged about in September. Increasing sense of "time compression" just like the example I gave above was the first sign of the approaching hardware meltdown in the virtual world it described. Could it be that The Matrix is experiencing heavy system load right now?
Anyway, I digress. Firefly is an amazing show and officially one of my favorites now. It has everything a jaded, cynical and condescending TV viewer like me could wish for: interesting, well constructed characters, compelling setting, snappy dialog, character driven plot, non-annoying special effects (more about that later), Summer Glau, Jewel Staite and Morena Baccarin. I'm trying to figure how could this show ever receive poor ratings. I watched 3 episodes so far, and I'm hooked. It should have been a smashing success! But alas, Fox fucked it up. If I recall correctly the ended up showing episodes out of order, marketing it to the wrong audience, and continuously trying to push their creative agenda onto the show writers and producers. They had a real gem on their hands and they totally let it slip through their fingers. Then again it is not surprising – after all, almost every single show on Fox that I was ever even remotely interested in was canceled after few episodes. This is why I refuse to watch that station these days.
I approached Serenity and Firefly cautiously. I was skeptical as to the setting of the series. Western and deep space Science Fiction simply did not mesh well in my mind. Not to mention I'm not a huge fan of the Western genre to begin with. Serenity was a pleasant surprise being light on Western elements and heavy on the SciFi and I ended up liking it. People warned me that Firefly is more westerny (is that a word?). This is true, the western elements are more prominent in the show (especially in the pilot) but it is not a pure high-tech-Western (like in Trigun anime) but rather a nicely balanced mix of various themes and influences. The setting is unique and very well designed. The Western flavor just that – a flavor. It adds a little kick, but it is not overpowering. Despite my reservations, I was sold on this quirky universe some 20 minutes into the pilot. Now I want to get the Serenity RPG so I could actually play in that world! That's how much I like it!
Joss Whedon really has a knack for creating strong character concepts. I noticed that his usual routing is to take fairly straightforward tropes, then combining them into incompatible groups and simply letting them interact and feed of each other. Initially you can understand the characters because they conform to stereotypes you can recognize. You learn about them through the way they interact with each other rather than through convenient exposition or flashback. Their relationships seem emergent and not designed. Thanks to excellent writing and characterization these seemingly one dimensional entities end up with unique personalities, and turbulent past they are usually reluctant to talk about. They become people you can identify with and who you care for. If you put them all in a room a story essentially writes itself – their temperaments clash, they feed of each others backgrounds fueling inside jokes, arguments, teasing and etc. This is one of those things that Joss Whedon excels at and you can clearly see he did hell of a job on the crew of Serenity.
The story itself is great mix too. At least so far. Despite the setting the writers did not end up relying solely on western plot tropes. They are present, but usually with a unique twist that makes them fit with the SF backdrop. It's not all there is to this show though. Everyone will find something that they like. There is a little bit of space opera, great deal of character driven drama, some mystery, some action and suspense and even little bit of horror (whenever Reavers show up). There is a linear progression to the story, and no magical reset button that makes everything better at the end of the episode. All of this is topped with just the right amount of humor delivered with impeccable timing.
Oh, and this is probably the only show in the known universe that does not use annoying special effects when it shows spaceships passing each other in the vacuum. When you watch a deep space scene you either hear nothing, or some background music. If characters are on a space-walk all you hear are their voices on the radio circuit – even when they use explosives to blow a hatch off a derelict abandoned transport. How awesome is that? Beautifully realistic!
All in all I love it. If you are looking for a really good show, or some really good Sci-fi definitely check it out. Too bad I only have 11 episodes left. I wish there was more. :(