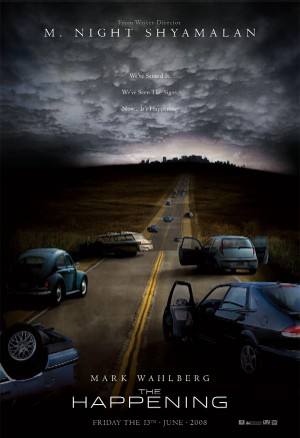 I want to know who made the trailers for The Happening. That guy needs an award! Or at least a raise, and his own corner office with a window (or two). I usually consider people who work in marketing as lower forms of life (present company excluded) but I must admit that this guy (or girl) has done something spectacular! To take this dull and unimaginative movie and make it seem so very awesome was an incredible feat of skill!
I'm serious. I remember getting excited for this movie back in the day. Every time they ran the trailer for it I was like "OMGZ! We need to go see it!". Of course when the movie came out, I already forgot about it. Other people didn't though, and the next day they were all telling me how incredibly bad it was. I don't think I heard a single favorable review from anyone I know IRL. There are probably couple of those floating online, but the reception of the movie in general was less than warm.
I finally saw it the other day and I must admit that I agree with the majority of the reviewers. This must be one of the worst M. Night Shyamalan productions to date.
I see certain worrying trend in his work. Each new movie of his, is worst than the previous one. Everyone agrees that Sixth Sense was a decent movie. Even people who didn't particularly care for it, must admit it was not spectacularly bad. From there however it all went down. Perhaps Shyamalan is a one hit wonder, and he spent all his creative talent on that first movie? Perhaps he has a limited supply of movie making genius that is being drained with each movie? I don't know, but this trend does not bode well for his career. Can he afford to make another movie that sucks?
The ironic thing about The Happening is that nothing actually happens in this movie. It is painfully boring. Any accidental buildup suspense is carefully and masterfully diffused through dull dialog and wooden acting. After seeing the trailers you would at least expect a strong performance from Mark Wahlberg. He could potentially carry this movie, but he is not allowed to. The movie needed a strong, confident leading character – a charismatic hero of sorts. Unfortunately Wahlberg's character is a whiny, indecisive and insecure science teacher who can't get his shit together even for one second. Zooey Deschanel plays his neurotic, quirky and equally insecure and indecisive wife. Initially we are lead to believe that she had an extramarital affair, but it turns out she just ate a dessert with a coworker at one time. But for most of the movie we need to watch her being plagued with guilt, remorse and finally break down into a tearful confession. I mean, Jesus! Watching these two was like watching to Mort and Mauriel Goldman from Familly Guy talk about their issues. Ugh!
I guess Shyamalan got upset seeing himself ruthlessly parodied on Robot Chicken where his signature line was "what a twist!" because he decided to do something completely unexpected. The Happening has no twist! Not even a little one. Furthermore the mysterious force that is killing people in the movie is explained in the first 15 minutes or so. This is one of those masterful suspense ruining moves I mentioned earlier. Screw the fear of unknown. Let's tell the viewers what they are supposed to be afraid as soon as possible, and then repeat it few more times until it sinks in.
What is Mr. Shyamalan scaring us with this time? In his first movie he used ghosts, which are inherently scary. Then used aliens, which were pretty scary up until they turned out to be vulnerable to the deadly tap water. Then he used weird robed hedgehog like critters in The Village which kinda sucked. Not to mention the silly looking, grassy wolf in Lady in the Water. This time around, he tells us to be afraid of trees. Yes, trees – like oaks, maples and etc. I think Mr. Shyamalan is running out of scary juice too.
Apparently the trees "spontaneously evolved" to release incredibly complex toxins that affect human nervous system, and switch off the self-preservation instinct making people kill themselves in inventive and entertaining ways as soon as they get a whiff of them. Or something like that. I wasn't really trying to understand it because my left brain hemisphere (the one responsible for logical thinking) started hurting as soon as I heard the "spontaneous evolution" oxymoron. Last time I checked, there was nothing spontaneous about evolutions. It's a long process that takes many, many generations and so far we mostly are able observe it in very short lived creatures such as fruit flies. Trees evolve rather slowly by our standards. Maybe Mr. Shyamalan needs to brush up on his biology. Or maybe his faith prohibits him from actually understanding evolution?
Even if you take the quips about evolution out of the equation, the whole thing doesn't work. I am not a biologist or a botanist but I find it incredibly hard to believe that an Oak tree could one day spontaneously alter it's chemistry to the point where it would start producing these toxins. It's even less probable that the trees would somehow sprout sensory organs that would allow them to detect and identify human presence. In the movie plants only release toxins when large groups of people are in the vicinity – and as the time passes, smaller and smaller groups of people are triggering the reaction. I'm pretty sure that something like this would actually require the plants to develop a limited central nervous system to process the stimuli accordingly.
Shyamalan hand waves away the whole thing by saying that this it is an act of nature that we will never understand. Damn straight, we won't cause it makes no fucking sense! This explanation is, ironically, delivered by Wahlberg's character – a science teacher. A real scientist would seek to understand the event, and would probably cheer up his companions saying that a lot of smart people are probably working on this issue. That they will find a vaccine, an antidote or a way to neutralize the toxin soon. I mean how hard can it be to send bunch of volunteers in hazmat suits to the affected area, take samples of plantlife and analyze them? Once you figure out how the toxin works, and how it is released you can figure out a way to block or counter it. It's science.
But in The Happening the scientists are humbled and powerless in the face of the act of God I mean nature. The science teacher eschews logic, and follows intuition. He abandons any attempt at logical explanation. There are even scenes which almost mock the scientific method. Whenever the protagonist tries to apply it to the situation at hand he freezes and becomes frantic and indecisive.
Maybe it's just me, but this whole movie seems to be very anti-science? Other people noticed it too though, and some even claim that the movie is intelligent-design propaganda. Maybe it is. or maybe Mr. Shyamalan simply failed a science class or two back in college and held a grudge ever since. It is not uncommon for Hollywood to throw out real world science out the window if it doesnt' serve the plot, so the blatant disregard for scientific facts may even simply caused by wanton ignorance. Whatever the reason, you may need to switch off your brain for this picture because "logic" it employs will either make you angry, or actually succeed at making you stupider.
Even if you ignore the jarring pseudo-science, the movie still makes little sense. When the characters finally figure out that the trees are the cause of mass suicides they decide to go deeper into the countryside and hike through a forest. Instead of sealing themselves up in one of the deserted houses they visit, they instead choose to hang out outdoors as much as possible and stay on the move. On the day when the tree activity peaks, the wife decides to take the 8 year old girl that accompanies them for a walk and ends up playing with frogs in an abandoned shed. The only way I can describe it is plot driven stupidity which culminates in one of the final scenes in the movie.
The married couple ends up trapped in two different houses during the peak of the event when even a single person will trigger release of the toxins. Whalbergs character decides he doesn't want to die away his wife and that he will try to reach her, toxins or not? You would think that he would tie a rag around his face and make a mad dash across the field trying to hold his breath as long as possible. Instead however, he leisurely strolls out into the field, breathing in deeply. His wife does the same, dragging poor innocent kid with her towards a certain death. But they don't die, because the event mysteriously ends exactly 24 hours after it begun. The rest of the movie features talking heads on TV screens saying how science will never understand what the hell happened, but that we need to respect the nature least it happens again.
Sigh… This is seriously the worst movie I have seen in years. Avoid it at all costs!