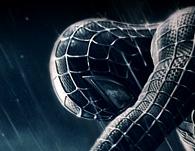 Spider-Man was horrible…
Spider-Man 2 sucked so bad it me nauseous…
Spider-Man 3… Actually it doesn't look that bad. I just watched the trailer, and the scenes with the symbiont look awesome. Chances are that this movie will be much darker than the previous two, and that can possibly be a good thing.
Venom is one of my favorite villains of all time, so naturally I will have to go to see it. If nothing else, just to see how badly are they going to rape the great character and storyline from the comic. I have only one question. Can someone please explain to me why the hell did they pick Tohper Grace to play Eddie Brock? WTF?
Let me explain this. Eddie Brock was a steroid freak, who spent a large part of his life pumping iron and plotting revenge on Spiderman. The symbiont does not give him super-human abilities – it only slightly enhances his natural strength, heightens his reflexes and allows him to stick to walls, and shoot webs like Spiderman. That, and it can mimic any clothes and make him invisible like predator. Eddie is kinda like batman with a cool living costume – no powers, just superior skills, strength, endurance and few costume based skills.
Eddie was always portrayed as this hulking beast of a man with a ridiculously broad shoulders, square jaw and football player/night club bouncer look about him. Tohper Grace is none of that. He is the wimpy Foreman dude from That 70's show! I think that Kathy Driscoll and Francine Maisler were doing crack when they were casting the role of Venom!