I was under impression that almost everyone in the world knew the international radiation symbol:
After all its been only featured in hundreds of movies, books, children's cartoons, video games and taught to millions of children in schools during the cold war era. To miss this symbol and it's significance, you either have to be really, really dumb or be completely disconnected from the cultural aftermath of the cold war era.
But apparently countless numbers of people ignore the dreaded trefoil symbol, and remove themselves from the human gene pool. I call this natural selection – these people are obviously unfit to breed if they fail to recognize this symbol. Especially since it is rarely posted without a big "DANGER! RADIATION!" note attached next to it.
However it seems that IAEA and ISO figured that this was a problem, and so they designed a new symbol, which is so literal that even an inbred, retard with a full frontal lobotomy could figure it out: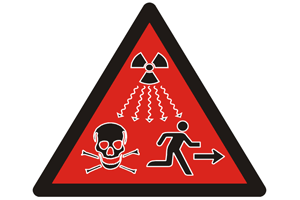 Even if you are one of those religious nuts and you don't believe in radiation and other science stuff, it still kinda works. With the trefoil looking like an eye in the sky, shooting down arrows, and the Jolly Eoger symbol it can be interpreted as: "God will smite you" or "you will be chased by sky pirates". Either way, it clearly motivates you to stay away.
It is perhaps the dumbest thing I saw in years, but I guess this is what it takes to keep people from drinking heavy water these days. If this is not an indication that we are getting dumber as a species, I don't know what is. Idiocracy, here we come.
[tags]radiation, radiation symbol, new radiation symbol, trefoil, radioactive[/tags]