If you ever used Spybot and it's resident registry protection tool TeaTimer you know what I mean. If you didn't let me illustrate it to you using a picture: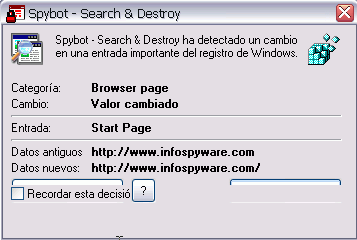 image stolen from forums.spybot.info
Do you see the problem here? And no, I don't mean the Spanish interface. That's because I have shamelessly stolen this image from the spybot forums. I meant the fucked up button positioning.
This problem existed since June 2005 or so. Spybot dev team blamed it on some bug in their Boardland development environment, but come on! How hard is it to fucking fix a button positioning problem in a release version? I understand how this might have slipped through on day one, but this bug has been pissing me off for over a year now. And it's not that there is no easy solution for this. You can fix this bug yourself in 2 minutes using ResHacker.
If you are to lazy to read that forum post, here is the solution in a nutshell: kill TeaTimer, open the TeaTimer.exe in ResHacker (it's in %PROGRAMFILES%\Spybot - Search & Destroy) and locate the following snippet of code:
object cbRemember: TCheckBox
Left = 8
Top = 160
Width = 339
Height = 17
Anchors = [akLeft, akTop, akRight]
Caption = '&Remember this decision.'
TabOrder = 2
end
The easiest way to do this is probably to search (Ctrl+F) for the word "decision" – it should be the first hit. Once you find it, just change the 160 (in bold) to 190, click Compile Script, then save it and you are all set.
Tell, me – if I can fix this issue in under 2 minutes by hacking a binary file, how hard would it be for them to do it when compiling the binaries? Hell, if it's so hard, they could just hack the binary the same way I did, before packing it up in an installer.
Supposedly this issue has been fixed in their new beta release from December. Still, having this annoying bug in their stable release version makes me wonder what other bugs they left unfixed out of laziness? I used to be a big Spybot Supporter but after my users started complaining about broken dialogs, and the issue persisted for over a year without a fix I kinda lost my faith in their product.
Which brings me to my question: what is your favorite Anti-Spyware tool these days? Preferably I'm looking for free tools, but if you can recommend an exceptionally good proprietary software, I'll bite too.
[tags]spybot, tea timer, resident, search and destroy, bug, reshacker, anti spyware[/tags]