After some deliberation, I decided to pick up a nicer keyboard to replace a very old Compaq piece of junk I was using as my external keyboard at work. That thing has been at the company longer than me, and likely changed hands several times before it became mine. It was time to retire it, so I picked up the Microsoft Natural Keyboard Elite.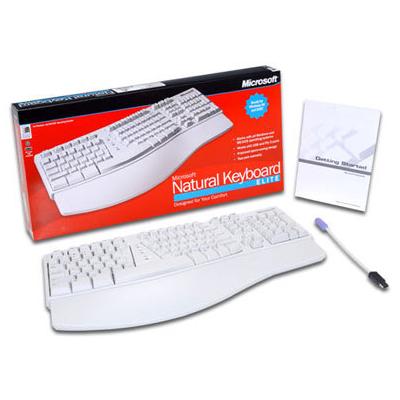 Everyone keeps saying how awesome these things are so I decided to try one out. My first impression? Holy crap – this thing is really high. With the retractable legs up, the back of my keyboard lifts up about 2 inches from the surface of the table. That is really high for a keyboard. If you usually keep your keyboard under the desk on one of those retractable shelf things it might not fit! It really takes more space than a regular keyboard – especially since it has a big, built in palm rest that is not detachable. That said, once you get used to the height it's actually quite comfortable.
Typing the first sentence on this keyboard was kinda odd, but by the third one I was going with my normal speed again. The split really doesn't bother me at all now. What does bother me is the odd layout of the arrow keys and the block that holds Home, End, Delete and etc.. The arrow keys are arranged in a + sign formation instead of the normal inverted T. The keys are also smaller than regular ones which totally throws me off. I typically hit right arrow instead of down now. Why the hell would they do that:
The edit button block is also messed up. Instead of 3×2 formation they made it into 2×3 to save horizontal space. First column contains Home, End and Delete while the second one has Page Up, Page Down and Insert. It's confusing since I'm very used to quickly hitting nearly all of these buttons (save for Insert). This will take some getting used to. In fact, these changes will be harder to get used to than the split.
Here is a tip for keyboard designers – do not change the relative position of any keys – even the purely functional ones. We know where they are supposed to be, and if you switch around the key order it messes us up.
The keyboard is PS/2 but it ships with a PS2 to USB converter. You don't see many of those around these days. I keep seeing those little green USB to PS/2 plugs all over the place, but not the other way around. Despite not being native USB device Dapper flawlessly recognized it as soon as I plugged it into the USB hub.
All in all, it's a good keyboard. Its big, and sturdy so I don't see it breaking any time soon. And I don not have an urge to go back to the standard layout yet. I think I will stick with this one for a while. I mean, typing in the split layout is not some mind shattering experience or anything. Once you get used to the size and hight of this thing, it turns out to be very comfortable. Oh, and it looks cool on my desk. :) Too bad they decided to mess with the arrow keys and the home/delete block. If they left it alone, it would be almost perfect. Then again, this would actually make the already big and bulky keyboard one or two inches longer. I guess this design choice was somewhat justified but that doesn't make it any less annoying or inconvenient.
[tags]keyboard, microsoft, natural keyboard, natural microsoft keyboard elite, elite, layout[/tags]