I did some more tinkering with my blinking dash issue and I found out the following things:
FIXMBR + FIXBOOT did nothing. Fortunately it didn't seem to hose my partition table so that's good
Booting from the WinXP SP2 CD and choosing to repair the installation did nothing
Running the Windows Repair from the WinXP CD did nothing
Parallel install of windows on the same partition (without formating) did nothing
My backups seem to be ok – Captive NTFS actually works in Knoppix these days (yay)
I will try few other tips I got in the last thread but I guess I will need to format and reinstall Windows in the end. But will this work? The repair option should have theoretically fixed any corrupted files on windows side. FIXMBR and FIXBOOT should have fixed the boot entries. WTF else is there? What the hell is preventing windows from booting? Chances are that I might still have this issue after I reinstall. :(
In the meantime I wanted to share something very special that I have found while googling for potential solutions to my problem: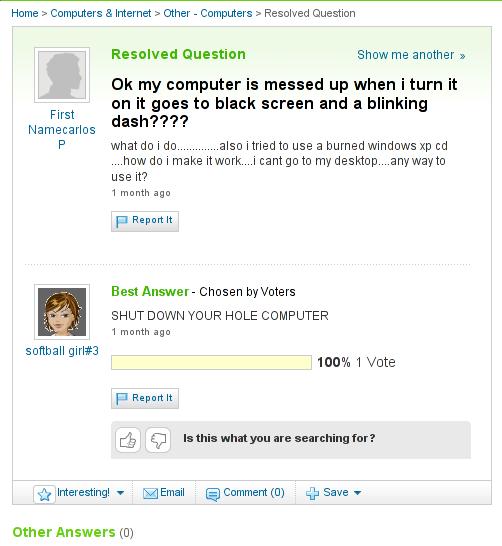 Best advice evar: "SHUT DOWN YOUR HOLE COMPUTER". LOL! This, ladies and gentlemen is the collective wisdom of Yahoo Answers. I swear, I haven't read a Yahoo answer thread that didn't make me chuckle and weep for the downfall of humanity at the same time. And I'm not even talking about technology advice – any thread on that site is LULZ-worthy to some degree. :P
Update 12/28/2007 04:49:22 PM
I found a solution to this. Well, sort off. Read the linked post.
[tags]blinking dash, windows, windows xp, winxp, fixboot, fixmbr, windows repair[/tags]