We have bunch of old broken laptops lying around at work. Most of them are unusable, but I don't like to throw them out because they are a great resource of spare parts. Sometimes I'm able to dig in that pile and use stuff like display hinges, bezels, arm rests, touch pads and etc to quickly fix some of the older machines that are still floating around. Naturally all these machines have been stripped out of memory, hard drives and CPU's long time ago. One thing that doesn't get replaced that often are LCD's. There is probably 6 or 7 displays like the one below in that pile.
They are just sitting there and not doing anything constructive, so I started thinking about putting them to a good use. There is another problem I often face – lack of spare monitors. Every time someone brings in a desktop for service we have to go an pull a monitor from one of the currently unused machines available in the office. Which is not the end of the world, since I usually have some flat surface available to set it all up.
Sometimes however a friend or relative brings their machine to my house asking for help. This is where the fun begins. I do have a spare CRT up in the attic that I keep for just hat occasion. What I don't have is space. When I'm fixing someone's computer you will usually see a scene of pure mayhem on the floor of my room:
I'm usually forced to squeeze the old CRT, the desktop, the keyboard and mouse in the tiny little amount of free space between the bed and the TV, and essentially sit with my back wedged against my desk, occasionally turning around to Google something on my desktop in the back. I could buy a LCD screen, but even a tiny 15″ cheepo sells for almost $200 at neweg – which seems a bit high for something that I would use twice a year, and then stash in the attic or at the bottom of some closet.
This is where the two needs begin to merge: my need to do something useful with the spare laptop LCD's and my need for ultra-small portable LCD screen. I figured that if I could find an Laptop LCD to VGA adapter I would be all set. Or not…
It turns out that I'm not the only person who had this brilliant idea. Unfortunately, it turns out that it is not as easy as one might think. The laptop LCD has a digital output that is designed to pin into a controller circuit which in turn talks to the video card. These things are mostly proprietary, not standardized and not widely available. The difficult part is figuring out exactly what kind of controller circuit do you need, then locating and ordering one. It's definitely possible though.
For example, I have found this blog describing the process. Unfortunately it is very light on technical details to the point of being relatively useless. It's more or less photographic proof that it is possible, but not much more:
The last entry is particularly discouraging – apparently the merchant who was supplying the circuits used in the example no longer produces them, and is currently out of stock. :(
A slightly more informative but less complete post can be found on the mp3car forum. They actually post a link to a vendor who seems to have quite a few different models for sale. There are two caveats though – the vendor seems to be located in Europe, and they only sell in bulk (100 units of more) which makes them useless as a resource. I found few others but none of them was really selling anything online.
Then I remembered a piece of old internet wisdom – if it exist, someone is probably selling it on ebay. Believe it or not, I found some interesting looking kits for sale. Here is a closeup pic of one of them: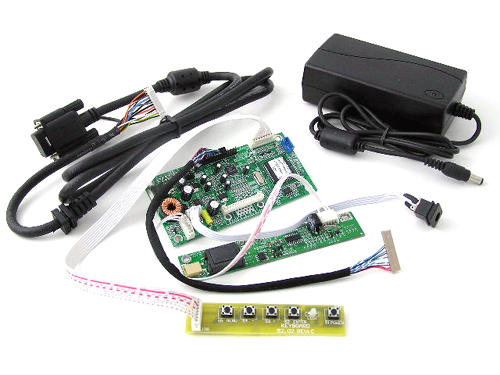 It is a TFT LCD controller with a back light inverter, which seems to be exactly what I would need. It also looks astonishingly simillar to what the dude in the first blog I linked to was using. Good news is they seem to be selling for $35 + shipping and handling (which will probably be another $30 or more knowing these types of ebay stores). So I'm tempted. It could work, provided that my LCD is one of the models supported by this device and that there are no funky drivers required to actually run this thing.
Anyone ever did something like that? Should I do it? It could make for a nice, space saving, ultra portable monitor, provided that I could find a semi-decent frame to mount the circuit and LCD…
[tags]laptop lcd, tft lcd, laptop lcd vga, monitor, controller, hardware[/tags]