Sequels always suck. No exceptions. Lord of the Rings is not an exception to this rule, because while it is broken up into 3 parts, it is really a single movie. It was shot and produced as a whole by the same team of people. When I talk about a sequel I mean a movie which:
is produced as a follow up to a successful block buster
is released few years after the original
attempts to add a new chapter to an already complete story
tries to cash in on the popularity of the original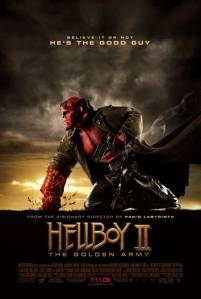 Hellboy 2 is a true sequel. I had high hopes for this movie. As I mentioned it many times on this blog, I consider the original Hellboy as one of the few Hollywood comic book adaptations that did not totally suck. While it was not a great movie, it was fun (if a bit campy), interesting and engaging. It had many good things going for it. For example, it had the strong Lovercraftian overtones. The story dealt with slumbering ancient Gods and a sinister plot to summon them to earth. It had tentacled beasts from bizarre myths of old, occult magic and Nazi sorcerrers.
Hellboy's origin was complicated as well. Our hero turned out to be a living a key needed to open a gate through which these tentacled dark gods could descend upon the earth. His sole reason for existence was to one day become a harbinger of doom. It made him that much more interesting. He was a being conceived by evil for a singular purpose who choose to reject his destiny and decided to be one of the good guys instead.
We also had a sympathetic rookie agent joining the team – a regular average Joe who knew little about the supernatural matters and mythical beasts. It was ok for him to ask stupid questions that helped the viewers to understand what was going on. He was also just getting to know the other characters so we could discover their relationships through his eyes. Introducing a naive new guy into an existing group is an old and tried storytelling method and it works.
In the sequel has none of that good stuff. The "everyman" character is gone. He is replaced by another new team member but one that is almost impossible to identify with. He is a faceless dude voiced by Seth McFarlane doing his really, really bad German accent from Family Guy. His body is composed of ethereal ectoplasm, he walks around in a Victorian style diving suit, he has no facial expressions, and his voice is supper annoying. I'm all for quirky characters, but this one was a bad trade.
Hellboy is no longer troubled by his purpose, destiny and place in the world. He seems to have all of that worked out. He trades his existential struggles for silly relationship problems and stupid emo stuff (bawww, people don't like me cause I'm different). The somewhat interesting push and pull relationship between Liz and Hellboy we knew from the original is reduced to basic, textbook sitcom material. One person has a secret, doesn't want to tell the other. Hilarity snoozefest ensues.
I wouldn't necessarily call Hellboy a deep character, but there was always something more to him. Between his destiny, his rocky relationship with Liz, various hints that he is actually a religious and superstitious person. All of that added up to a somewhat interesting mix. In The Golden Army he reverts to a common thug, and his rage meter is dialed all the way up to 11. He is reckless, self destructive and seems to thrive on conflict. He seems to be picking fights with allies, friends or even innocent bystanders for the silliest reasons. Any complexity he might have had is gone and we end up with a paper thin, one-trick pony who gets angry and starts punching things in every scene. All the bits that made him so appealing in the first movie have been lost.
Lovercraftian theme is gone as well, replaced with sort of a dark and grim fairy tale backdrop. While I think the ancient gods were a much stronger material I was actually sort of intrigued by this new direction. The idea of having the mythical fey-folk still surviving on the margins of human settlements and secretly meeting in abandoned industrial buildings was actually kind of juicy. This was almost like something taken directly out of White Wolf's Changeling: The Dreaming if not better. The juxtaposition of the modern, industrial themes with the myth and folklore was possibly one of the stronger points of the movie. Even if some of the creatures look like they were taken directly out of Pan's Labyrinth. I guess Guillermo del Toro is very fond of these eyeless, stumpy headed wrinkled monstrosities he seems to reuse all the time. Not that I'm complaining – I sort of like these things too. I think they actually do hit some sort of a sweet spot between odd, formless and humanoid look which elicits some sort of a low level emotional response from most people.
Unfortunately, the somewhat intriguing setup leads to nowhere. Upon close inspection the world of the fairy-folk seems devoid of any kind of depth or mystery. In fact we hardly see any of it. It acts merely as a colorful backdrop and we only get to know they key players who are important to the plot. I sort of hoped to see more of the fairies – both being henchmen to the main villain as well as allies to Hellboy and his team. I also expected to see some of the themes from Changeling resurfacing here – like having the fairy society in a decline, loosing ground to human expansion, their magic and their culture slowly fading away into oblivion. But no. This is not the direction they went with. They went for the action flick angle.
You can clearly see that this movie had a much bigger budget than the previous one. They went all out on both huge scale special effects (the big brawl with the overgrown ent on the streets of NYC) and on costumes, and incredibly detailed makeup for dozens of extras in large crowd scenes (the troll market). I suspect that Mr. del Toro spent much more time designing new funky critters to parade in front of the camera than actually writing the screenplay. The plot while serviceable is incredibly linear and predictable to the point of killing any suspense and tension it might have had to begin with. The humor is rather weak, and seems forced – which is especially evident when the same joke is reused over, and over and over again.
It is not a bad movie. It's just not a good movie either. Usually I wrap these types of reviews by saying something among the lines of "Only watch this if you are a big Helloboy fan". But you know what? That's not true. If you really liked the first move, you can just skip this one.