A little while ago I talked about Google App Engine being a sign of new good things to come. I was convinced that this was too good of an idea to just be ignored. Other people were bound to get into the free cloud application framework business and I was right.
Go and check out AppJet.com. It is another free cloud application framework that allows you to write and host your application on their server for free. Many people were confused and/or disappointed to learn Google's service only allowed Python. Personally I adore that language so I have no clue what was their problem. But the truth is that the very first feature request on their App Engine code page was to add Java Support. Number 13 was to add PHP support. Sigh… Give people great app with an elegant, succinct language and they immediately want to replace it to replace it with the uglies. Let's face it, Java is overly verbose and PHP can't compete with Python on prettiness or consistent, straightforward syntax. Both are good languages but, eh… I can see why they went with the big Python.
AppJet went a different route and picked a language that most people know and love (or hate). And no, it's not Java. You see, AppJet folks are a forward thinking lot, and they picked a language which has a bright future ahead of it: Javascript.
You get access to basic Javascript with their custom set of server side libraries including a custom permanet storage system. I find their storage solution quite ingenious actually. It is simply a javascript object and you assign properties to it as to any other object – it just sticks around.
There are two awesome features that set this service apart from Google App Engine though and I can't decide which one of them is more awesome. First is their incredible web-based IDE. You just have to see it, and if you are to lazy to explore their page, here is a screen shot: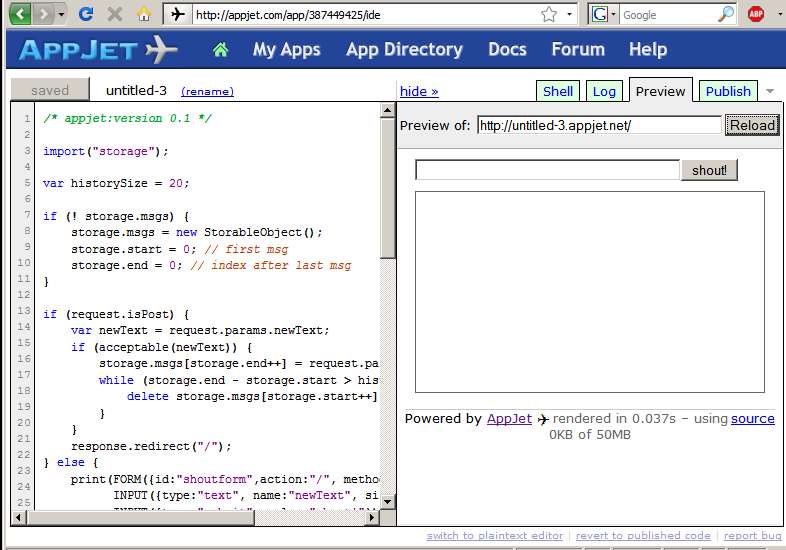 You can actually edit your code right in your browser. No ftp/sftp, no custom uploader apps (like in Google App Engine). How awesome is that? Everything you need is on a single page. On the left you have your code window with nice accurate code highlighting. On the left you have a preview pane so that you can see your changes in real time. I'm really impressed with this feature – it is possibly one of the best apps of this kind that I have seen recently.
Second great feature is the fact that AppJet does not lock you into their cloud the way Google does. If you are not happy with their hosting, or for some reason can't use it you can download their server software as a single jar and host it on your server. All you need is a recent JVM.
To see what this technology is capable off, check out EtherPad – a collaborative real time text editor which runs on the AppJet stack. Quite an impressive service if you ask me, showing that AppJet is capable of much more than just little toy projects.
I can totally see myself using AppJet for some small throw-away apps in the future over Google App engine – if nothing else, just because of the online IDE and the fact it does not lock me into their hosting so I could easily migrate my app to a self hosted environment if I wanted to.