As you may remember, this past semester I had my students do some very simple programming exercises in LOGO. The lab session could actually be considered a success since most of the students seemed to enjoy playing with the Tortue interpreter.
On the final exam I decided to include an extra credit question to see how many students have retained any understanding of that lab session. It asked the students to draw two squares of different color on the canvas and it was worth 10 points that would get added to the student's total score. I wasn't really looking for 100% correct solution – merely an attempt that would show some degree of understanding of the question.
Since the question was optional and also non-trivial, I expected many people to skip it. Surprisingly quite a few students answered it with a high degree of correctness. In fact, I was surprised that more people attempted to answer the LOGO question rather than a very similar optional question which asked them to write down the syntax for a HTML table. But perhaps it's because the HTML exercise we did was right after the midterm, while the LOGO lab was 2 weeks before the final so it was still fresh in their memory.
Most of the answers were either correct, or close to be correct. Only one made me laugh out loud though. And it's not because I'm an evil bastard and I laugh at students failure. It's because it was a genuine attempt at humor. I decided to scan it in and share it with you:
Get it? I said "Write Tortue Logo code" and he did. Anyways, I found it amusing. I reminded me of the infamous find x problem that has been passed around on the Internets for ages now: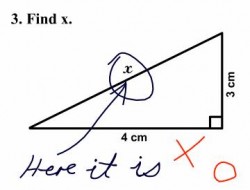 Find x is so ancient it doesn't even seem to have an original source. That is, I'm sure there is one but I have no clue what it could be because just about every blog, forum and image board has posted and re-posted it a hundred times over without any attribution. In fact, I have seen people claiming that this image is not actual genuine scan from a test, but just something that someone did as a joke. Perhaps, but the limited amount of teaching experience that I have tells me that it probably is genuine. Especially since now I have my own variation on the same theme.
The question is – was this a homage, or an original attempt at humor that just turned out to be derivative. Cause, as you probably know we have exhausted almost all original content left in the universe around the turn of the century (if not earlier) and almost everything that is being created now re-uses old themes, tropes and ideas. This is especially true for internet culture which thrives on memetics, repetition and self referential humor.