I'll tell you a little secret. I don't particularly like mini games in my computer RPG's. I actually don't think they add anything to the game play. If I wanted to solve little puzzle games I would exit the game, fire up my browser and go to one of the many sites that aggregate flash games. I'm pretty sure I could find something more stimulating, engaging and fun on any of these sites than what passes as mini-games in most modern RPG's these days. If I wanted to mush buttons in response to on-screen cues I would play Guitar Hero, Rock Band, Dance Dance Revolution or, I don't know – Indigo Prophecy.
I'm not saying all mini games are bad. For example, I totally didn't mind the Pazaak card game included in Knights of the Old Republic games. I consider it an exception to the rule, mainly due to the fact it was optional. You actually never had to play it in order to advance the plot. The game designers did not shove it down your throat forcing you to master it. If you were not into it (like me) you were free to ignore all the Pazaak dens and politely refuse all offers to play a game from NPC's.
Not only that – the game also had a nice collectible element to it, which allowed you to build up your deck by finding or buying new cards. It added a new layer to an already excellent role playing game. Personally, I was more interested in the unfolding story to waste my time playing it, but I enjoyed the fact that it was there.
I remember that Final Fantasy VIII (the only FF title that I played btw) had a very similar collectible card game going on, and I totally didn't mind it either. I have nothing against optional mini games that you don't actually have to play if you don't want to.
On the other hand, I abhor mandatory mini games. Some RPG's such attempt to use them in lieu of skill checks which I find silly. For example, Oblivion has the lock picking game you must play every fucking time you want to… Well, pick a lock.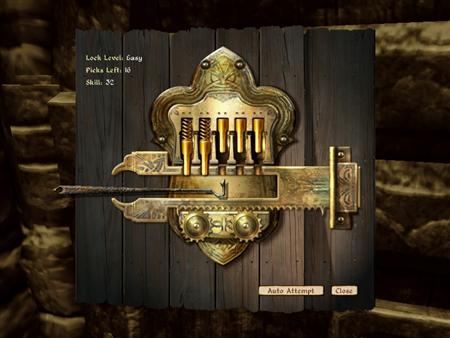 This is not really a puzzle game. It is more of a skill based, reflex building game. To open the lock, you need to push the tumblers up and lock them in place. You get visual and audible clues as to when you should lock a tumbler, and if you attempt to lock it at the wrong time, you will break your lock pick, and more tumblers you already cleared will fall down. You have to actually learn how do do it in real life by trial, error and lot's of practice. Your character has a security attribute that can be used for lock picking but this game makes it irrelevant. Some people get so good at this mini game they can pick hard locks with level 1 characters:
Why does the game even have that security skill? In Morrowind (Oblivion's predecessor) lock picking was based directly on your security skill. If your skill was low, you would only be able to open low level locks and you would fail a lot As your skill increased, you would get better and better. If you spent a lot of time and money training that skill you eventually became ultimate lock picker. For example, one of my characters was able to pick the lock on Vivec's chamber in a single try.
This was great. I felt that there was a gradual progression there and my character became more powerful over time. In Oblivion you don't get that feeling. When you first start playing the game, you suck at it you waste most of your lock picks. Eventually you get a hang of it, and you can usually open even the hardest locks with a single lockpick. Oblivion ties lock picking to player skill rather to the character skill.
This brings up an interesting issue. What is more satisfying: mastering a difficult skill yourself, or watching your character master it and observing the results? A lot of people will probably pick the former, but I actually get more kick out of the latter. Why? I really suck at eye-hand coordination things. I find them silly, annoying and distracting. That's why I usually pick RPG games over arcade button mashers, platformers and reflex based stuff.
I get a kick out of the story, the plot and interacting with the in-game world. I like to see the sights, talk to people, read the little bullshit books and immerse myself in the fluff. I like the combat aspect too, but games such as Oblivion give me so many choices when it comes to that. I can be a brutal warrior with a big War Hammer, a stealthy Rogue who will sneak attack people in the back, a ranger type guy shooting people full of arrows while running backwards, a mage pumping enemies full of fireballs or a summoner guy having skeletons and daemons fighting for me. Besides, combat is largely based on the skills and equipment my character is proficient with.
That lock picking thing though? I don't feel like learning it. Why do they make me actually train this pointless, absolutely irrelevant, useless skill? That's not fun. That's work! The only satisfaction I get from mastering the lock-picking game is the fact that I can finally move on and enjoy other parts of Oblivion without agonizing over wasting the precious, hard to get lock-picks.
Fortunately, Bethesda figured out that there are people like me out there, and created the Auto Attempt button which will try to pick the lock based on your security skill. The only problem with it is that it wastes a lot of lockpicks. And I mean, a lot. More than I would waste doing it the normal way. So you either suffer through the minigame and learn it, or you walk around perpetually broke because you are spending 200-300 gold for lockpicks every few hours.
To make matters worse, the persuasion mini game in Oblivion has no auto attempt button: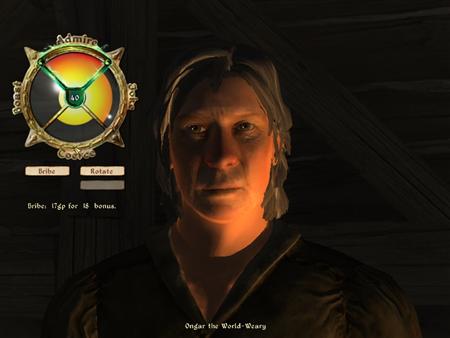 Granted, this one is somewhat easier to master, but it doesn't change the fact that I would just prefer to push a button and see if my character was able to rise the disposition of the NPC based on a speachcraft skill check. Again, I get very little sense of accomplishment from beating that little game. What's worse, the game robs me out of feeling like I'm playing a really smooth talking character because the speachcraft skill is virtually useless.
For me, RPG games should stay RPG games. Designers should resist the urge to replace traditional skill checks with mini games. Lockpicking should be a skill check. Persuasion should be a skill check. Repair and modification of items should be a skill check. Any form of hacking or computer security operation should be a skill check. If you are a game designer, and you think you could add some flavor to your product by replacing an in game skill check by forcing the player to play some reflex/memorization based puzzle you should stop what your doing right now. You are doing it wrong!
Take that idea for a really awesome hacking/lockpicking game and make something like Pazaak instead. An optional game that just adds flavor to the game world, and allows players who don't particularly enjoy it to skip it altogether. At least that's my take on it.
What do you think? Do you enjoy mini games that replace skill checks? Do you find Oblivion's mini games appealing? Or do you find them annoying like me?