Happy 1234567890 Day! Yes, as I mentioned last week the Unix Time will roll over 1234567890 exactly at 6:31.30 PM Eastern Standard Time today! Yup! It totally calls for a celebration of some sort!
Anyone planning to attend a roll-over party of some sort tonight? Quietly celebrating with few geek friends? Or perhaps you don't have anyone to celebrate this occasion with? Either way, I want you to stop whatever you are doing at 6:31 today and just reflect on this once-in-a-lifetime moment for few seconds. Remember, the timestamp will never be 1234567890 again. Oh and don't be a spoilsport and tell me that it's always a once-in-a-lifetime thing with unix time. I know that, but it doesn't make today any less awesome.
I figured that this is as good occasion as ever to reminisce a bit about the past, and the role technology played in your life up until now. Yup, in this thread we wax nostalgic about the long forgotten hardware and software we used ages ago.
The first computer I used in my life was the venerable Commodore 64. My friend somehow managed to convince his parents that a personal computer is something he totally needs to like get smart and stuff. So they bought him a C64 which at the time was getting to be quite popular, and affordable. It was a thing of beauty:
Alright, I guess it was ugly as hell by today standards. Nevertheless I was instantly captivated and fascinated by that little box. It had a 1MHz CPU and 64KB of memory and it totally rocked. I knew I had to have one, but my parents were not as progressive (or affluent) so I actually had to wait few more years before I got my own personal computer. In the meantime I spent unhealthy amounts of time at my friends house tinkering with his machine. We hardly used it for anything but games. Games, which of course were loaded off of magnetic tape using the magnificent Datasette device: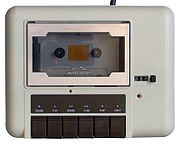 It was especially fun when you spent 5 minutes loading a particularly large game from tape, only to see the thing instantly throw a fatal error because your head alignment was off and the data was read improperly. So you would spend another 5 minutes adjusting the alignment using a small Philips screwdriver and then try again until you succeed or figured out you have a defective tape. Still, it was a blast.
The first computer that I owned Amiga 600. As I said, I had to wait few years before my parents got me a first computer and the technology moved forward. A600 was light years ahead the C64 with it's beefy 7MHz CPU and a whooping 1MB of RAM.
Arguably, this was the worst the Amiga line had to offer, but I loved it anyway. I still used it mostly for gaming mainly because A600 shipped without a hard drive. Most games were shipped on bootable floppies and thus, I didn't really have that many reasons to boot into the OS. Btw, Amiga Workbench 2.0 was the shit! It had an amazingly functional and intuitive graphical user interface long before these type of things became standard:
I literally spent hours just customizing the desktop, changing the icons around and messing around with the settings and apps that shipped with it and writing silly shell scripts. The shell was rather limited though – and I pretty much had to discover it by trial and error because my manual was written in German, French and English – none of which I understood at the time.
The app that I used the most in these days was probably xcopy:
As you can probably figure out, it was used to make a copy of your floppy! Also, the screenshot above clearly illustrates the prevalence of GUI interfaces in the Amiga ecosystem. We didn't really need to fuck around on the command line unless we wanted to.
My first introduction to the x86 family was in the newfangled "Information Technology" course that got introduced to the curriculum when I was in 7th or 8th grade. At the time most people were still using DOS with Norton Commander file manager. So what you saw on the screen most of the time looked a bit like this:
You can imagine how this must have felt for me. I was used to an advanced, GUI driven OS only to be learning this anachronistic, backwards system at school. Still, perhaps because of it's backwards, it cryptic nature, I found it fascinating. Soon after that I discovered recursion: I made autoexec.bat call itself ad infinitum… On every computer in the computer lab… Fun times!
The rest, is as they say history. Since Commodore went belly up, I begrudgingly became a full fledged PC user and grew accustomed to Windows. I started tinkering with C on my own in high school, using a bootleg bordland compiler. Later I took several programming classes and was hooked. When I started college, I switched to Java (which I liked more than C) and discovered Linux. In fact, my first steps as a Linux user were chronicled on this very blog.
Now it's your turn! Tell me about the memorable hardware and/or software from the past. What was the first computer you ever used? What hooked you onto technology? What OS or application do you remember most fondly from your childhood/adolescence? Let me know in the comments!
And enjoy the timestamp day!