Anyone who has been blogging for at least few years now, can attest to this: Youtube videos sometimes go away after they have been up for a while. Most of the video hosting services do not have policy of deleting old and inactive content, but it still happens. There are many reasons for this. Sometimes the author deletes the video himself. Sometimes he or she deletes their whole account nuking all the content they have ever submitted in one swift click of a button. Other times Youtube forcibly deletes their account for a TOS violation. Finally, many videos are lost to broken and often abused anti-piracy compliance procedures (delete video first, ask questions later… or never). Regardless of reasons, the slow fading away of embedded videos is a fact of life.
If you don't believe me, you can easily verify this for yourself. Pick a blog that you like and dig into it's archives from 3-4 years ago. Look for video posts. I can almost guarantee that you will find at least one (but likely more) broken embed that looks like this: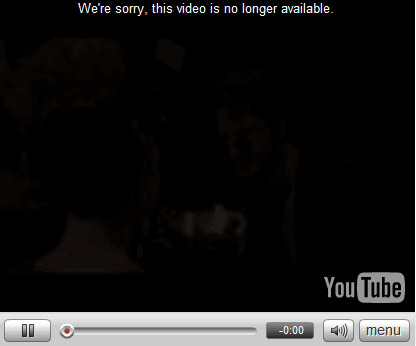 Chris Wellons (btw, go read his blog – good stuff) was recently browsing through my own archives and found quite a few dead videos there. These vids just vanished. They were swallowed by the cyberspace void never to be see again. They became ex-videos. They have ceased to be!
What's worse, I forgot which videos were they to begin with. Some of my old posts would tangentially discuss a video that I embedded but at no point would even hint at what the content was – and I did not remember. So there was no way for me to even go back and re-embed it or post some explanatory blurb. These posts are now mysteries.
Of course, the web being what it is, all online resources are prone to sudden disappearances like that. Broken links to articles, and broken images are also a frequent sight on pages that have not been updated in a while. But I find it that Youtube videos are much more volatile than anything else.
This is probably due to the fact that most of other content people tend to link to is self hosted rather than tied to some free service that needs to react to 10 million wanton copyright infringement complaints each day. For example when I put an image or an article here on Terminally Incoherent it will stay up as long as I keep paying my hosting fee. It may go down every once in a while because my host can't keep their shit together, but it won't disappear overnight one day. Even if Dreamhost decides to delete my file due to a complaint (or for fun) I can effortlessly restore it under the same URL if I need to.
Furthermore, we already have established ways to prevent this breakage from happening – or to work around it. Hot-linking to image files is for example, considered rude and inconsiderate (if not dangerous – what if the original author of kitten.jpg you hot-linked replaces it with goatsey or tubgirl out of malice?). It is considered a common courtesy to copy an image, host it yourself and then link back to the original source. This way the author gets the credit, but does not have to suffer the costs of serving the image to your readers.
Similarly, you can avoid making your post incomprehensible after an article you linked to goes away, by simply quoting the source. Textual quotes give the readers the much needed context without forcing them to leave your page to read some long article they may not be that interested in to begin with.
Video hosting these days is almost exclusively done through Youtube like services. You can still self host videos just like images but it is just not as easy. To host a picture, all you need to do is upload it. To host a video, you will usually need to convert it into a FLV, upload it, set up a flash based FLV player somewhere and then combine the two. It takes some work. Or you can just post the video in it's original form for download, but it will be huge, inconvenient to handle and it will kill your bandwidth. Posting your stuff to Youtube or similar place is really the best the easiest and quickest way you can get your stuff out there.
Once you host the video on their servers however, you are at their mercy. If your vid is taken down, you can't easily restore it. You can beg them to bring them back, and dispute the take down but that does not always work. If you re-edit the video (for example in response to a complaint, or just to fix it up) you can't re-upload it with the same URL. Your new upload will get it's own unique address, an all the existing links will be pointing to the old one – or to a 404 error page if the old vid was taken down for some sort.
Locally caching videos the way we commonly do with images is impractical. Youtube currently does not provide us with an easy way to download the videos it is hosting. While there are many sites that specialize in extracting FLV files out of Youtube pages they are all unofficial. Some video services frown upon that practice, try to interfere with it and explicitly ask you not to grab their source files in the TOS. Most of them go out of their way to make embedding their content super easy for the end user. They provide you with an embed code (often in several formats such as HTML, BBCode and etc) and syndication buttons for popular services.
Because of this, embeding is the accepted method of sharing videos these days. So we have a broken system in place, used by millions of people. We know that this system often results in broken links and that there are no easy to apply and viable alternatives. So what do we do about it?
There exist services that specialize in allowing you to watch "deleted" Youtube videos. or which cache videos on demand, or automatically. but they don't help us. For one, they are not reliable – some videos are lost to them as well. And in either case, we trade one service for another which may be even less reliable in the future. But even if a video is available via such service, it does not change the fact that original link or embed is broken. That's really what we are trying to prevent here.
There is really no way for us to stop or avoid Youtube rot – it just happens randomly. You can try to be cautious of what you link to, but you just never know which video will stat up forever, and which will be gone after 2 weeks. Best thing we can do is to try to work around it. Now that we know Youtube rot exists, we can take steps to make our posts and articles less vulnerable to it's effects.
Here is my proposal: each time you embed a video, include the following in the body of your post somewhere:
The exact title of the video as it appears to youtube so that your readers can easily google it once it is gone
The name or nickname of the original creator, to help narrowing down the search
A brief description of the video contents to provide context for your readers if the video can't be found elsewhere
When I say brief description, I mean brief. You don't need to do a House of Leaves type transcript of every scene and every dialog. Just give your readers some idea of what happens in the movie. You can even phrase it in the form of a comment as in "I never knew hat doping menthos into coke and watching it explode could be this much fun".
Most people don't do this. They just post the embed code and then comment on it, but they do not take time to properly describe, tag or attribute it. I know, because I'm as guilty of this as anyone else. Think about it though. Next time you include a video in your post, take a 10 seconds to copy and paste the title and the author below it. Take a minute to comment on it's contents. This will pay off in the long run. In a few years, someone will stumble upon that old post of yours and will still be able to make sense of it. Better yet, thanks to the full title and author they may even be able to locate the vid you mentioned on some other service.