Ok, hands up if you have Black Friday off this year? Some people don't. I do, and I'm glad! Long weekends FTW!
Incidentally, guess what I'm doing on Black Friday this year? Getting up early to catch the best deals and get a jump start on my Christmas shopping? Fuck no! I'm doing this: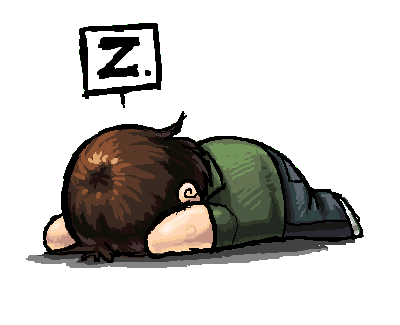 That's right – I'm lying face down, and unconscious in my bed making ZZZ sounds. I am fucking sleeping in. Screw shopping. I went to a store on a Black Friday once and it was not a pleasant experience. It was like playing Left 4 Dead but instead of zombies there were angry housewives and I didn't even have a weapon to defend myself. Seriously, trying to go shopping today is the closest experience you can get to facing down a zombie horde and survive.
So fuck it I say. I'm using my holiday to relax, play video games and do absolutely fucking nothing.
How about you? Are you going to brave fighting the horde do do some early Christmas shopping? Extra points if you managed to get some geeky swag at discount prices. Feel free to brag in the comments. Also, post disturbing Black Friday shopping stories if you have any.