Hey, have you seen the new Apple commercials? You know, the ones with the young ultra hip Mac dude, and geeky middle aged chubby PC guy?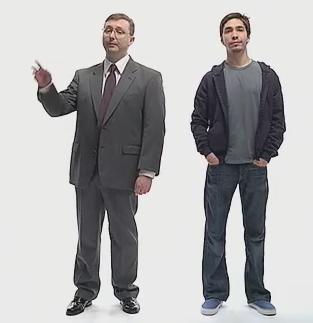 Mac: Hello, I'm a Mac.
PC: And I'm a PC.
Mac: And we're here to…
AAAAAAAAAGH! KILL! MAIM! DESTROY! STFU! STFU! SHUT THE FUCK UP!
Please, stop this! Just fucking stop with these commercials. They were not funny at the beginning, and they are not funny now. How long are you going to milk the same stupid joke? It's about time to send Mac and PC guys to the Island of Misfit Mascots where they can frolic along with Dell Dude and Taco Bell dog.
Dear Apple,
I respectfully ask you to please stop showing your "Hello, I'm a Mac" commercial. I really think that at this point it is actually damaging your brand name. I can tell you that it annoys the LIVING SHIT out of me every time I see it.
Respectfully yours,
Annoyed Linux User
Mac: Hello, I'm a Mac.
PC: And I'm a PC.
Mac: Oops, I think I might have a faulty part. We are going to have to send me back to Apple for repairs.
PC: Nah, we will stop at any computer shop and just pick up new part for like $10.
Mac: No can do pal. My super, duper proprietary architecture is closed and secret, so only Apple can fix me. The part will actually cost $1,500.
PC: That's… That's just wrong…
Mac: Wrong? YOURE WRONG NERD! You're fat and you wear glasses! Haha! I win! I RULE YOU!
PC: … [kicks Mac in the balls and walks away]
Now that I got that out of my system I feel a little bit better :mrgreen: