I just found the most [tag]addicting[/tag] [tag]game[/tag] evar! Go and download [tag]Toribashi[/tag] now! Yes, now. I will wait – it's only like 4 MB but it is fun as hell!
It is a [tag]fighting game[/tag], but not of the button mashing kind. It doesn't have effective combo moves, but what it does have is the effective [tag]physics simulation[/tag]. You essentially control the tension of your character joints, and manipulate them to punch, kick, grapple and etc… Controls are quite difficult to grasp at the beginning and it will take you some time before you can do anything other than falling over. I admit that it took me well over an hour to actually figure out how to throw simple punches and kicks – but it was fun just to play around with the engine.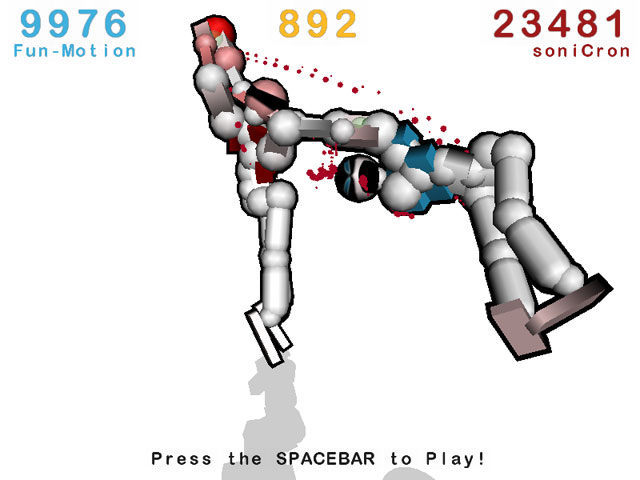 The best part is that if you put enough force on your opponent's joint you can actually rip it off. I was able to successfully dismember my opponent on several occasion. Once, actually managed to cut the guy in half with a pin-point accurate jump kick placed in the waist area. I think it was a fluke, because I could not replicate that move again.
Toribashi is a great example that you do not need fancy graphics to make an awesome game. All you need is [tag]innovative[/tag] concept, and a simple design that goes with it.
Go digg Toribashi all the way to the front page.