None of my readers fessed up to owning an iPhone yet. So what phones do you guys have? I have a Samsung SCH-A670 which kinda looks like this:
I had it for a while, and while it served me well, I'm getting sick of it. I need a new one. I was thinking about either the Samsung SCH-U740 or the LG enV. Both have a full qwerty keyboard which I like. The Samsung is a very thin flip phone, while the enV is a bulky brick that opens up in landscape mode to reveal a nice big screen. It also has a better camera, better keyboard layout, better speaker and generally gets better reviews. Initially I was leaning toward the Samsung because of the size, but after I held both of them in my had, and read more about them I think I like enV better. Here is how they look: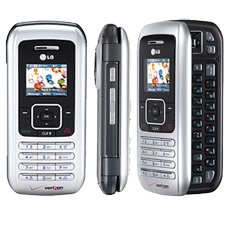 enV on the left, SCH-U740 on the right
I haven't decided yet which one I want. Which one would you pick given a choice? Btw, I probably won't buy the data plan – but I like to have a full keyboard for texting.
What kind of phones do you guys have?
[tags]lg, samsung, lg enV, samsung SCH-U740, samsung SCH-A670, cell phone, phone[/tags]