Long, long time ago (in 2005) I wrote about the MAME emulator which allows you to play old school fighting games such as Street Fighter Alpha, and Marverl vs. Capcom on your PC. In and by itself MAME is awesome, as long as you know where to download the appropriate game ROM's. However, I always wondered how do people take the crazy screen shots and videos pairing characters from different games and genres. For example Ken vs. Rayden. At first I though that someone simply combined footage from Street Fighter and Mortal Kombat, but of course this was not the case. It was actual game footage, with some clever editing.
So what did they use to create that video? So what game lets you have all these crossover combats? It's a called M.U.G.E.N.
MUGEN is not really a game in itself. It is a modable, scriptable engine for the old school, 2d fighting games. It ships with no stages, no characters, no life bars, and a very basic character selection screen – you need to supply all of that to make the game work. Fortunately, MUGEN has a very large and active community which constantly churns out new content for the system. Most of the characters from Street Fighter series, and most of Marvel heroes that appeared in CAPCOM games have been carefully re-created for MUGEN including their signature combos, and special moves. Same goes for Mortal Kombat, King of Figthers and dozens of other games. People even create completely original characters, by re-drawing other sprites, and altering moves from other characters. For example, someone made a very awesome Superman based on the Magnetto model from X-men vs. Street Fighter game.
But I'm not just going to tell you. I will show you the fights I was able to stage with a little bit of digging, and downloading:

Who will win – Superman or Wolverine?

When worlds collide: Inuyasha vs. Piccolo from Dragon Ball

WTF? Oh, God, why? Petter Griffin vs. Ryu

OMG! Kill it with fire! Superboy vs. Krusty the Clown
Yes, I made those screen shots. and yes, Petter Griffin has a flaming fart super move.
Caveat emptor: MUGEN takes a little bit of work before it becomes fun. How come? Before you do anything you probably need a screenpack. What is that? Screenpacks usually contain images and scripts that make your life and energy bars look nice, make a cool character selection screen and etc. Each screenpack is a big zip containing altered data, plugins and fonts folders. You simply drop them into your MUGEN directory overwriting the old ones, and next time you start the application, it will have a brand new look and feel to it.
Then of course you need characters and stages. Importing them is easy, but tedious since they are usually not included in screenpacks. Furthermore, since it takes a lot of time and effort to create one, you will almost never see large character packs available for download. Most of the time, people will simply create characters for their 3-4 favorite fighters from a given game. So if for example you want to download the complete cast of Street Fighter, you are up for a lot of hunting, since the downloads are scattered all over the place.
Mugen Infantry has an impressive, ever growing database of characters but they do not usually host them, or direct link to downloads. They simply link to the homepage of the author, and from there you need to locate the downloads you want yourself. Did I mention that half of the indexed characters is hosted on non-english sites? Well, I'm mentioning it now. I had fun trying to figure out which link leads to character downloads in French, Spanish, Japanise and German. Whooptie do!
Once you find stages and characters you want you will usually need to unzip them and drop them into stages and chars folders in the MUGEN directory. Then you will need to let the game know about each of them by editing the data/select.def config file. How do you do that? Like this: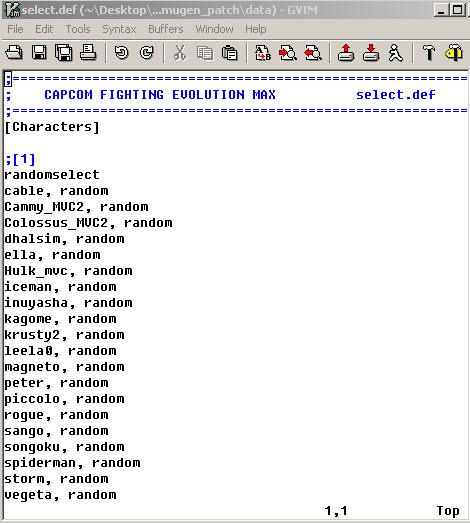 For each character you need to add an entry in that file. Same goes for stages.
Finally, the game is unbalanced. Since the attack timing, combos and AI is scripted by the character creators you get very varied results. For example, whoever designed the Wolverine I'm using, decided he should be a beast in combat. So as the first opponent (ie. the easiest one) he scored two flawless victories on me. I didn't even get a single punch in, And all of that was done with long, chained 32 hit combos, followed up by special move, and more combos. Ouch!
I also noticed that Superboy has almost no recovery time to his fast and medium kicks and punches, and they do not knock the opponent away far enough. In effect you can easily get off 20-30 hit combos by just repeatedly mashing buttons.
Then again, Lobo totally kicked my ass despite that infinite combo bug giving me the unfair advantage. Which kinda makes sense – Lobo was always a total badass. I vaguely remember a comic in which he royally kicked Superman's ass up and down the Fortress of Solitude until he got somehow tricked by some rouse and lost. Seriously, I did read that at one point – I'm not making this up. If you can tell me the issue, or at least some insightful info about that storyline, you get 10 points on the spot! :mrgreen:
It's only fair to mention that many of the characters I downloaded were still in beta, or even alpha testing stages. So this is where the lack of balance comes from, and it is totally forgivable.
All in all, MUGEN is tons of fun if you like tinkering, and "collecting" cool playable characters, and pitting them against each other in combat. I highly recommend checking it out.
[tags]mugen, mugen infantry, mugen characters, superman, lobo, superoby, peter griffin, inuyasha, piccolo, wolverine, screenpack[/tags]