I was really surprised by Ned Bachel's rant on Apple's installation procedure. To me this installation model appears not only very intuitive but also transparent:
Double click on the .dmg file
Drag the .app file to your Aplications folder
???
Profit
Even a clueless of users will sort-of get what is going on here. Application files go into Applications folder – and to remove application from your system, you take it out from that folder and dump it into the recycle bin. I'm not an Apple fanboy – far from it. I'm not even a Mac user. I don't own a Mac, I don't have an iPod, and I'm not all that impressed by the iPhone. But, I really I can't imagine anything more straightforward or transparent than this.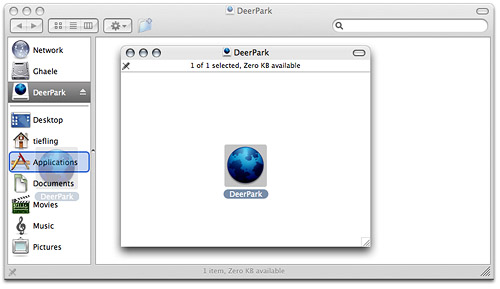 Ned however prefers the windows like installation wizard. Surprisingly Jeff Artwood sort of agrees with him only to contradict himself in the last sentence. I think they are both missing the point here. This behavior is a well thought out design choice, clearly outlined in Apple developer guidelines. Say what you want, but to me this looks like a very good attempt to improve usability. You create guidelines, encourage developers to follow them, and thus offer the user consistent experience.
On windows the experience varies from one application to another. It really depends on developers choice. Some choose to use the Microsoft MSI Installer. Another popular choice is InstallShield, and Nullsoft Scriptable Install System. Some people simply choose to roll their own installer. And while all of them do the same exact thing, they differ with respect to the look and feel, and the presentation of the necessary prompts to the user.
Ned's main criticism (other than his annoyance with zipped .dmg files which can be safely written off as developer's mistake – kinda like putting a MSI in a zip file for Windows) is that finding the Application folder might be difficult and/or tedious. Or at least that's the notion I got from his post. Sure, perhaps locating and opening the Applications folder might be confusing the first time around. But since installation is consistently done this way, I don't see why would it be so much worse than a multiple step wizard. You just get used to it, just like you get used mashing the next button on the windows installer.
I think both Ned and Jeff are suffering from a classic "it's different from what I'm used to so it must be bad" bias. They have certain habits, which are obviously a result of their OS preference. But, are windows power users really the best people to judge Apple installation method purely based on merit?
It's interesting that Jeff does get it. In the last sentence of his post, he expresses the need for a "no questions asked" installers. He wants a big, "Install Me" button that users could press. But he seems to be so stuck in the "windows user mentality" that he does not recognize that this is exactly the point of the Apple installation guideline. The only difference between Jeff's perfect installer and the Apple way is that one has buttons, and the other one has drag and drop mechanic. Is clicking a button inherently easier than dragging? Perhaps it is. But which design is better from the usability point of view.
One could argue that Apple's method is more transparent to the user. Even the average user will know that all his apps "live" in the Applications folder and that's where you go to modify it or uninstall it. Do Windows users typically know about the Program Files folder and it's purpose? And is this knowledge a good or a bad thing? Do you want your user to know these things, or do you want him blissfully ignorant?
The truth is that we can discuss theoretical usability issue till we are blue in the face, and still get no actual insight into what users really need. The only way to see which method is better, easier, more intuitive is to put it to a test. Let's gather a group of people with no prior computer experience (and hence no bias), let's show them both methods, and then make them install bunch of common applications on each system. Then let's have them report on their experience. My hunch is that we might get a 50-50 split right down the middle, with some people preferring one way and some the other. But my guess here is about as good as yours.
What do you think? In my honest opinion, apt beats both systems with respect to consistency and user experience. I mean, it will even download the package, and all it's dependencies for you. I doubt Jeff and Ned would agree with me on this – but this is what works for me.
[tags]apple, installation, drag and drop, usability, apple installer, windows installer, installation wizard, jeff artwood, ned bachel[/tags]