I was flipping channels yesterday, and all of a sudden something grabbed my attention. Hey, this girl looks familiar! As a matter of fact, I actually talked to her once, and I got her autograph! Yay for the 2002 NYC Farscape convention. If you want to see a low res, grainy embarrassing picture of me with the Farscape cast there is one here. Note the mandatory shitty yellow name tag, and me sporting the whole dorkus maximus look over there.
If you go bit back in the archives you know my unhealthy obsession with Gigi Edgley. I knew she was working on some sort of scifi movie all the way back in August 2006. Hell, IMDB did not even list it back then. My cyber stalking skills are far superior it seems. This very movie that I posted about last year just premiered on SciFi Channel yesterday and I hand no clue about it. It was a total fluke that I just stumbled upon it! Which tells me this was fate, divine intervention or some shit like that. I was meant to review this movie, and damn it, I'm going to because no one else will!
This movie sucked. End review.
No seriously, the original title was "Alien vs. Alien" but SciFi apparently renamed it to "Showdown at Area 51" which is probably the only possible title that is even more tacky than "Alien vs. Alien". With a title like that, do you really expect a Science Fiction masterpiece? Nah, this is one of those few shitty, low budget flicks that Scifi buys each year so that they can shut up the critics who say that they actually don't air any original science fiction on their network.
What do you mean we don't air original SF movies? We had that Alien vs. Alien thing in December. That's SF – it has the fucking word Alien in the title twice. And that chick from "Firescape" (sic) was in it. No, not Claudia Black, the other one.
Actually, the fact that I sat through this whole movie just shows depth of my obsession with appreciation for Ms. Edgley. I don't really have any screenshots to show you since I just saw it on TV and I doubt that anyone actually went to the trouble of capping this one yet. So instead here is the promo shot from scifi.com: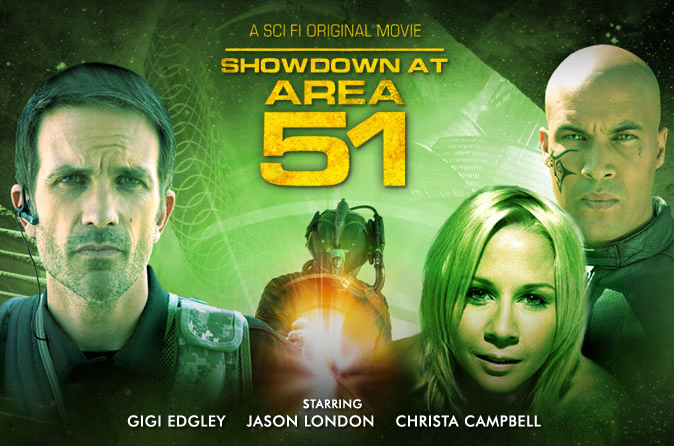 The plot is fairly simple – two aliens get sent to earth. One is a bad guy who is supposed to do something bad, and the other one is a good guy who is sent to stop him. Sigh… I already saw that movie when it was called Terminator, and it was much better back then. Everyone keeps trying trying to cash in on this formula but no one really produces anything of value.
Alien #1 is a bold dude with a tatoo on his face, wearing all leather. Why is it that people from space (and from the future) always wear black leather? Seriously? I will call this first guy baldie because I didn't bother to remember his space name which doubtlessly have four X's, 3 V's and no vowels in it – cause you know that all aliens have names like that.
The alien #2 is a fat guy in a gas mask – cause, apparently, cool prosthetics are expensive and they went all out kitting the other guy in biker leather gear. Gigi and her boyfriend who I think is a park ranger (Ranger Smith let's call him) – because he wears some ridiculous khaki uniform – somehow get in the middle of the fight between these two. I missed the first 20 or 30 minutes of plot exposition so I'm not really sure how they did that.
Both aliens claim to be good guys but they show it in different ways. For example Baldie kidnaps Gigi to convince her. Gas mask on the other hand decides to convinces Ranger Smith about his good intentions and tell him how baldie is The Real Bad Guy™. This would actually be an interesting plot twist if they actually cared to develop it some more. It turns out that gas mask just wanted a ride in a van, and as soon as they reach destination he decides to kill his new best friend. Baldie shows up to the rescue out of nowhere and you go WTF! They set up this moderately interesting situation where the two pairs could meet and while the aliens fight the humans need to decide which one of them to trust. If they trust the wrong one, and follow his instructions or simply do nothing the earth blows up. So you have some suspense and high tension drama here – actually pretty good shit, right up Gigi's alley. But of course that would require good writing that does not include phrases such as:
"We need to put the ether-rod into the termination port of the ever-seed."
But then there are many moments in this movie that actually make no fucking sense. For example there is a scene where baldie and Gigi are in a car, and they hit road block manned by armed soldiers. Baldie decides to go for it, and tank-rush the squad. The soldiers open fire. Lo and behold, not only is the car bulletproof but it actually doesn't even get scratched up. Once they pass the barricade though some lucky shot breaks off the rear bumper and which point Baldie stops ditches the car and decides to run into the forest with Gigi in tow. In the next scene the car with ranger dude and fat-mask arrives and the same scenario repeats. Their car is also bullet proof.
What's better is that once they go past the barricade and stop on the other side the soldiers immediately stop shooting decide to pack it in and disappear. They don't pursue the cars that got past, or even try to investigate them.
No, I'm not kidding – ranger Smith gets out of the car, gas mask tries to kill him, baldie shows up, but the soldiers are fucking gone. Where did they go?
There is another scene where the ranger points a bazooka at the fat alien. The problem is that fatso is lying on the ground, and the he is standing above him. I'm pretty sure that rocket jumping doesn't really work in real life, so I'm entirely certain how he was planning to get our of the blast area. Unfortunately the alien doesn't see the silliness of the situation, and actually takes the threat seriously. Sigh… Nothing in this movie really makes much sense.
You will also laugh at the props. For example, the big bad device that will blow up the earth is a glowing traffic cone painted gold. The entry shaft that leads to the resting place of the cone is made out of a plastic garbage can cover but everyone acts as if it was really heavy metal cover. The gas mask's costume is so laughably pathetic that it's not even funny. It's a mess!
As it is the norm in these sort of movies the dialog is atrocious. I could see that Gigi was trying really hard to work with the lines she was given, but there is just no way to deliver some of these gems without looking stupid. You can be the best actor in the world, but the script and direction are very important. If you don't believe me go watch Revenge of the Sith. Natalie Portman is actually a really good actress, but you probably wouldn't think that if you only seen that movie. Same applies for Gigi in this flick. She does all the right things though. She is really in character, her emotions are convincing and etc. She is probably the only person on the screen who is actually doing some acting. Everyone else seems to be just pretty content to deliver their lines on cue and move on. And hell, she looks really cute in this one. Sadly she got really shitty lines, and her characters actions made no sense at times. So yes, this role won't really get her noticed out there. :(
But hey, it's exposure right? She can now put a "lead actress in a Scifi Channel original movie" on her resume. I don't know. I'm trying to make the best of it. I'm actually surprised she agreed to do this but I guess this movie probably sounded much better in the casting pitch than it actually turned out.
If you are a Gigi fan, you should probably watch this because she looks so damned cute, and gets lots of screen time. If you are not, then watch at your own peril. Seriously, just watch the cute blond girl and don't even try to think about the plot because there isn't any. Your best bet is probably to mute the damn thing when Gigi is not on the screen to protect your sanity.
If you are interested the Scifi channel will air the movie again on Thursday (Dec. 20) on 9 pm. I will probably be watching it then to catch the first 20 minutes that I missed.
[tags]gigi edgley, showdown at area 51, alien vs alien, gigi, edgley, chiana, farscape[/tags]