Let's talk backups. How do you do it? I mean, you do make backups, right? We talked about this before many times. Backups are not an option! They are not something that computer geeks do for fun.They are necessity, and if you neglect them or ignore them you will regret it. Don't tell me you don't have anything worth backing up on your computer. Just don't! Everyone says that and then when they lose all their data they cry. When will you people realize that the 60 GB of mp3's you have meticulously collected since they you were 13 can never be recovered, or recreated once your hard drive dies. It's gone! You have to start from scratch! Do you even remember which songs you had there? How about your emails? Letters from your first girlfriend/boyfriend? Pictures from that crazy spring break that you never printed or uploaded anywhere cause they were to embarrassing? Don't tell me things like that are not important to you. Cut the bullshit and go start backing up your data. Yes! Go! Right Now! I'll wait.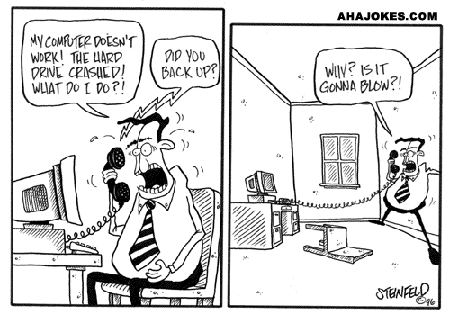 Ok, so now that I made you think about backing up your data, here is a question: do you image the whole disk, so that you can roll back your system to a previous state, or do you just backup your data? Both methods have their benefits and flaws.
Right now, backup mostly my data by rsyncing up my home directory to an external drive. On Windows I use Unison instead of rsync but idea is the same – incremental sync of just my data files. I leave system files and applications alone.
For one it saves space. Believe it or not, the OS, games and software tend to be huge. By saving only the stuff I actually care about, I make better use out of my external media and cut down on backup time.
Secondly, file based backup can be less failure prone. I used to use NTBackup on my windows machine back in the day to take snapshots of the OS state and the results were less than impressive. The backup would run for 18+ hours and then would fail right near the end leaving me with an unusable 100+ GB file on the external media. That may be because NTBackup generally sucks but I believe that most applications that work this way would have similar flaws. I also tried ghosting, but that required a reboot into the ghost environment and had a simillar issue. After the backup was done, I had one big file, which could become easily corrupted. I hear that newer versions of Ghost do not require a reboot but from what I have seen they are terribly bloated which is sort of a trademark for Symantec products. Huge, slow and bloated. Bleh…
A file based backup seems like a more robust procedure to me at the moment. Even if the process fails in the middle of execution, I still usually get a partial backup. Furthermore the files are directly accessible if I need to do only a very selective restore. I do not need to go through some special application to unpack the data I need. I just mount the drive and grab the necessary files.
But that's me, and I'm always open to new ideas. How do you do your backups? What software do you use? Do you think backing up just data is a bad idea? If I wanted to do full system backup, what should I use? Let me know in the comments.
[tags]backup, unison, rsync, ghost, veritas, ntbackup[/tags]