Recently I realized that I really don't watch much TV. Or rather I do watch fair share of it, but I don't do it the way normal people do it. When I come back from work, I tune my TV to one of the following channels: History Channel, Discovery Channel or Comedy Central. Then I sit at my computer and do my stuff. I like documentaries, and I like the John Stewart, Colbert, South Park, Futurama and etc.. At 11 I flip it to Adult Swim and watch the silliness there. I don't watch daytime TV. I abhor reality shows and I usually can't stand news because I really don't give a flying fuck about celebrities, sensationalist fear mongering and stupidity – I'll get my news online, thank you very much.
The truth is, that 80% of stuff on TV is total crap. 18% is decent, and 1% is pure gold. And since I don't usually watch new shows, or actually keep track of premiers I often miss that awesome stuff. But I make point of actually revisiting the good stuff – for example when it comes out on DVD. Every once in a while I go hunting for a new show to obsess with and I often find them.
That's how I found Lost, Heroes and Battlestar Galactica. I got into all these shows late, then got my hands on few shows and was subsequently glued to the TV for weeks. All of these induced what I call the "just one more episode before I go to sleep" syndrome. They just keep you on the edge all the time, and you can't wait to see what's going to happen next.
I just found a new show, and it's called Dexter. I just watched the first season, and all I can say is: damn good TV! A big plus is that it is a Showtime show, which means they can show gore, nudity and can actually curse like normal people do in real life. Which, considering the topic matter, makes it more true to life and attractive.
Dexter could be described as sort of a cop drama – but with a very interesting twist. The titular character, Dexter is not a cop – he is a serial killer who happens to work for the police as a forensic expert on blood spatter. So it's kinda like watching CSI but with interesting, complicated and conflicted characters, and a very well written story arc. I usually detest cop dramas and think that CSI shows are beyond silly, but this – this I like. It's deep, unconventional, quirky. And of course we are rooting for the bad guy – a heinous murderer who has an insatiable desire to kill. Despite being a monster, Dexter is actually a very compelling and likable character with very dark sense of humor, and sensibility and morality of his own.
To most people Dexter is just a really nice, harmless, ordinary guy. He is always smiling, cracking jokes, brining donuts and coffee. Sure, he is a little bit geeky, and tad odd – but I guess anyone whose job specialization was "forensic blood spatter analysis" would probably come off strange. On the other hand he is this strong, manipulative, controlling, sadistic monster who enjoys torturing his victims. He hides his dark side so well, that he probably comes off more "normal" than you and me.
The only person who knew his secret was Harry – his foster father. He discovered Dexter's desire to kill and taught him how to channel it and use it constructively. He instilled a very strong moral code in his son. Thanks to Harry's code Dexter never takes an innocent life. His victims always deserve their fate – they are all notorious murderers who killed many innocent victims, and yet somehow slipped through the cracks in the system and avoided getting caught by the police. So he is sort of a vigilante, or a dark hero dishing out justice to those beyond the reach of the law. But that's not why he kills. He does it because he enjoys it and he knows that his actions are morally reprehensible.
Michael C. Hall was born to play this role! I really didn't watch Six Feet Under so I'm not familiar with his body of work, but he does an absolutely amazing job portraying this offbeat, disturbing and interesting character. In fact, the whole cast is excellent. Everyone delivers a very compelling performance – even most of the extras, and one-off characters are great. So is the writing and direction. The plot starts slowly and lightly showing dexter doing his thing, but quickly thickens and spins out of control. Shows like Lost and Heroes usually rely on a cliffhanger driven episode transitions. Dexter, not so much. Most episodes offer satisfying resolution and a small hook to get you interested in the next installment. Real cliffhangers are used sparingly but when they do happen, the effect is striking because you do not expect them. It really shows that the story is very well thought out, building up the tension in small increments, and offering localized catharsis moments at the end of each episode.
What I like the most however that just like with Heroes the first season is a closed chapter. It tells a story which has a begging, middle and an end. There is no meandering, and no huge frustrating season finale cliffhanger that leaves you hanging, and speculating for months. What you get is a satisfying resolution. If the show got canceled after the first season, it would still have been a great story, with a great ending and I applaud that. It's way to easy to go overboard with the cliffhangers and it seems that Dexter has them firmly in check using them the way they are supposed to be used – for special occasions.
I rarely notice tings like music in TV shows, but I must mention that Dexter has a very distinctive sound track. To give you an idea how the music, and camera work make this show special watch this short opening sequence from the show:
This is pretty much Dexter's morning routine: shaving, getting ready, making breakfast, brewing coffee and etc.. But the way it was shot subtly suggests something else. When he cuts the ham, it looks like he is cutting flesh. When he ties his shoes it looks as if he was strangling someone. When he squeezes out a grapefruit it seems to ooze blood. The unsettling yet catchy music only helps to emphasize that odd sinister light in which we view the ordinary, everyday routine. Very clever, very well done and sort of indicative of the overall quality and attention to detail on the show.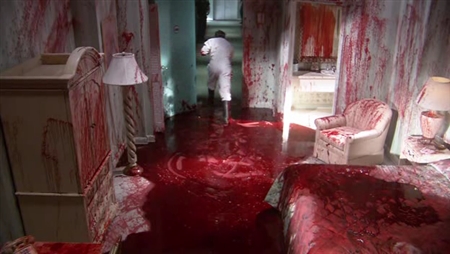 If you haven't watched it, I highly recommend this show. It will capture you with the surprising death, dark humor, the offbeat protagonist, and character driven drama. After just one episode I was sucked in. After two I became addicted. If you are planning to check it out, better set aside a chunk of time because it will be very hard to resist watching 3-4 episodes in one sitting. Both seasons are out on DVD now, so you can buy them, rent them, netflicks them or whatever.
Now excuse me while I go watch the second season. Let's hope it doesn't fizzle out and loose the spark the way Heroes sort of did after their first season.
[tags]dexter, tv, tv shows, review[/tags]