I'm going to talk about Oblivion again today. Friday post will be something entirely different – I promisse. Please keep in mind that while I complain about this game a lot, I continue playing it. It's not bad – it's just not Morrowind. Besides, today's topic is not entirely about Oblivion. It's about video games in general. Oblivion is just the latest offender in the long list of games that committed the crime of using Invisible Fucking Walls.
I'm telling you, nothing breaks immersion more painfully than bouncing into an invisible wall. Insurmountable waist high fences are bad, but at least they provide you with some visual clue as to where you can or cannot go. But sometimes game developers just
put an arbitrary border around the game world and simply prevent you from going further. We all know that borders are necessary. You cannot have an infinite game world. There have to be explicit bounds that players cannot cross around the game play area. But clever design can mask them. Take my favorite Morrowind for example: the game surely was bound by some arbitrary borders, but I have never seen one. In fact, I never felt compelled to find one. The game took place on an island surrounded by sea on all sides. To actually find the invisible wall, one would have to swim really into the open sea. But there was never any incentive to do so. All the interesting stuff such as shipwrecks, small islands, and sea flora were close to the shore. Open sea was empty and barren. It was a natural barrier that I did not feel compelled to cross.
Some other games are less subtle about this, and they bound the game play area using other geographical features such as deep chasms, tall mountains, rivers of lava and etc. Oblivion however does none of that. I actually bounced into the invisible wall by an accident. When I got my first horse in the game I went on a crazy ride across the wilderness. Since horses are awesome at scaling steep terrain, I kept climbing all the bigger and smaller hills just to see what was behind them. I actually found some interesting stuff on my way: bandits, some ancient ruins, couple of random chests with a little bit of gold, and some cheap items and etc. That was until I hit the in game border.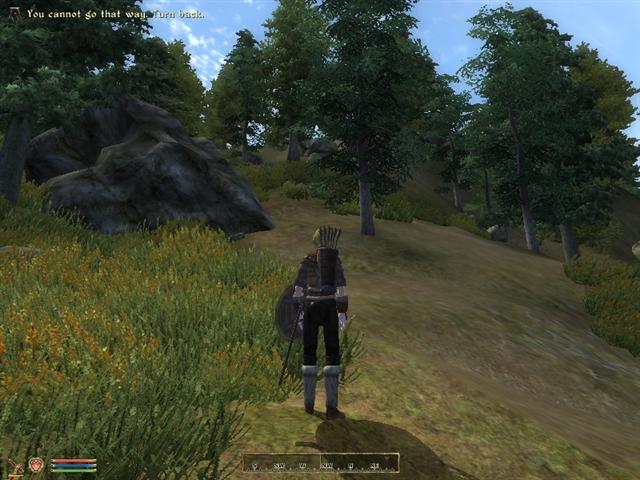 click to enlarge
As you can see above, there is nothing there that would stop me from proceeding. There is more generated terrain beyond the invisible wall, I just can't go that way. This, ladies and gentlemen is not only wrong, but just lazy. Why didn't they put a chasm or a mountain here? It's probably because mountains or chasms are not supposed to be there. Bethsheda fell into a classic world-building trap. Anyone who either designed imaginary worlds and drew intricate maps for them, or adopted existing maps for already made worlds and tried to use them in some narrative knows this feeling. Sooner or later your story, adventure scenario or plot requires the characters to visit a swamp or a forest of some sort, and then you realize that the closest one is hundreds of miles away.
This is the downside of using pre-made worlds. Oblivion takes place in the world of Tamriel – the same imaginary world as Morrowind, Daggerfal, Arena and Redguard games. Bethsheda already drew and published the maps for the whole continent, despite the fact that each of it's takes place in a different province. The playable area of Oblivion is the province of Cyrodiil which lies smack dab in the middle of this huge map:

click to enlarge
This is not the most accurate map. There are maps out there that include topographical detail such as major rivers, mountain chains and etc. Cyrodiil just doesn't have high hills, impassable chasms or rivers of lava along most of it's borders. The consistency of the world with previously published materials prohibited Bethsheda from building these artificial barriers. So instead they went for illusion of continuity. As long as you don't actually bump into the invisible wall, you can see the terrain stretch away into the distance.
Invisible walls are bad, but in this case they are somewhat excused by Cyrodiil's geography. How could they make the game play area finite without them though? The geography of the area does not really depict any high mountain chains, chasms, canyons or other natural barriers across most borders, so these are out. The neighboring provinces are not desolate wastelands, but more or less heavily populated areas. This means that procedural terrain generation is out of question as well. In some games where the playable area is bordered by sea or wastelands you could get away with generating random terrain devoid of anything interesting into all directions. This way a player could wander off the map and continue walking as long as he wanted, but it would never find anything. This works especially well for islands. Procedurally generate empty sea all around and allow players swim out as far as they want.
Still, that wouldn't work for Oblivion either. Randomly generated emptiness all around it would totally mess up the scale and create an illusion that Cyrodiil is the only populated province on the continent, which it's not. Still, simply telling the player he "cannot go that way" is wrong, because it immediately begs a question of why.
Why cant I go there?
What is there?
As Steve Yegge noticed, the answer to this question is problematic to say the least. If you try to think like the character in the game, you won't be able to figure it out. The question makes no sense. The wall is the end of the universe, and what lies beyond is incomprehensible.
It is something other than the game world. It is undefined! But you don't want the player to think this way. Thinking about the end end of a playable area break immersion. You want them to think that there is stuff out there there. Real stuff like more of the game world – but it's just inaccessible at the moment. In Morriowind players knew that there is a vast empire of Tamriel just beyond the ocean. But they also knew they could not get there by swimming. It was logical – you can't swim across the ocean in real life, so they wouldn't try it in the game either.
Could we conceive a similar logical, life-like barrier for Oblivion? I was thinking about a magical barrier. Cyrodiil is the imperial province, right? We could say that one of the paranoid emperors in the past, ordered to erect a magical barrier along the borders of the province to protect it from raids, and keep outsiders at bay. Something like Ghost Fence from Morrowind, but larger in scale. It's not perfect, and little bit shaky fluff-wise, considering that the the upkeep of Ghost Fence tied up most of the combined power of the Tribunal. Still, something like that could have been better than an invisible wall. The player would consider the wall an in-world obstacle, rather than an abstract game mechanic.
How would you solve this issue? How would you avoid the invisible walls around Cyrodiil, without invalidating existing maps, and contradicting the existing lore?